Like many developing countries, Vietnam has no shortage of health challenges, from infectious diseases such as annual flu epidemics to rising rates of unmet and chronic illnesses such as cancers and diabetes. Vietnam also has to contend with increasing resistance to drugs for killer diseases including AIDS, tuberculosis and malaria. There is, however, increasing evidence that Vietnamese researchers are rising to the challenge of harnessing biotechnology to improve health care for healthier society as well as advancing the sciences.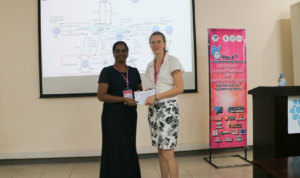 The biotech progresses for medical applications in Vietnam include gene diagnostics for genetic disorders of human diseases, infectious pathogens in human, animals and plants; in-vitro synthesis and production of therapeutic proteins including insulin, IFNs or biosimilar forms of monoclonal antibodies for targeted therapies; biomaterials such as cell matrix, collagens, artificial skins for transplant surgeries; cell therapies via application of cord blood and bone marrow stem cells for cancer therapies. Saigon Hi-Tech Part also begun to host biotech star-up companies via incentive program, which is based on available technologies and human resources of HCM City, offers a cost effective plan and includes gene, protein synthesis, cell production for drug research discovery, disease and clinical studies. The achievements are from various biotech research centers and biotech companies in Vietnam and they could be viewed from these websites www.nanogenpharma.com, www.vinastemcelllab.com, www.mekophar.com.vn, www.nk-biotek.com.vn, http://ivac.com.vn, www.vabiotechvn.com, www.medic.com.vn, www.pasteurhcm.org.vn, www.ibt.ac.vn, www.vmmu.edu.vn, www.vietnamgenetherapy.com, www.shtp.hochiminhcity.gov.vn, www.vast.ac.vn, www.most.gov.vn, www.tropicalmedicine.ox.ac.uk/viet-nam, www.htdhcmc.vn, www.hmu.edu.vn
While Vietnam is progressing in applied biotechnology, the country is not ignoring basic and advanced research. At the University of Sciences of Ho Chi Minh City, researcher Ngoc Kim Phan and associates, for example, have done pioneering work in establishing stem cell and dendritic cell research laboratories which is well equipped with facilities for cellular and molecular studies. Inspired by potential applications of biotechnologies in agriculture, a multimillion USD biotech center, also known as BTC of HCM City, was proposed for both R&D and production, and in construction process. MOST of Vietnam has also planned for the Gene Therapy Center in Bach Mai hospital, a major public hospital of Hanoi. In preparation for the future, universities and training centers of Ho Chi Minh City graduate several hundred students major in biological sciences annually. There are also increasing number of returnees who had their post graduate training from abroad including Japan, Korea, Singapore and there are also participation of researchers from USA, Australia, French, Holland, Germany etc.
International collaboration and assistance have been an invaluable part of the biotech development of Vietnam. Vietnamese researchers appreciate their opportunity of international association and have made the best mutual outcomes from their partnerships. International networks such as A-IMBN (Asia-International Molecular Biology Network), Global Health Sciences of UCSF, AFOB (Asian Federation of Biotechnology) have been instrumental to researchers of Vietnam via providing workshops, conferences and onsite trainings; VEF (Vietnam Education Fund) and various universities, research centers worldwide also offered generous teaching and training for students and researchers from Vietnam. The research ideas and skills learnt from these institutions are materialized via funding of international and inter-governmental programs commonly known to us such as WHO, ODA, Ford and Fulbright Foundations (USA), Monbukagakusho: MEXT (Japan), Endeavour (Australia), IIe-de-France (France), DAAD (Germany), NUFFIC (Holland), Science without Borders (Belgium).
The 1st Gene and Immunotherapy Conference of Vietnam (GIC-VN) planned in Ho Chi Minh City, the economic capitol of Vietnam, takes advantage on the above achievements to pursue the emerging field of gene and immunotherapies for Vietnam. We realize that as a developing country, there are immense needs for Vietnam to learn from the international scientific community about their accomplishments and advances, in order to harness them for improvement of medical research and application in Vietnam. Therefore, GIC-VN is created to welcome international experts in the field of gene and immunotherapies to present and discuss their cutting-edge and global research; concurrently GIC-VN provides media for local researchers of Vietnam to present their progresses in establishing their unique attributes on medical issues of Vietnam. Ultimately, GIC-VN aims to pursue a long term goal of promoting modern life science interactions between Vietnam and the international community via conferences, workshops, exchange of students, faculties and developing opportunities for scientific collaborations and partnerships in the field of gene and immunotherapies.