THE 2nd iCRRM is highly privileged to convey to you our warmest greetings and cordial invitations to participate in THE 2ND GIC-VN 2015 on the theme of "Innovations in Cancer Research & Regenerative Medicine", which will be in Ho Chi Minh City from September 25-26, 2015.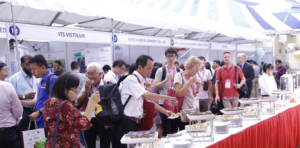 GIC-VN 2015 is highly honored for the sponsorships by the Vietnam National University (VNU) and co-sponsorships of the leading international institutions of the University of Los Angeles (UCLA) and the Asia-Pacific International Molecular Biology Network (A-IMBN). We are specially honored to welcome Distinguished Professors David Eisenberg (HHMI investigator, UCLA) and Ken-Ichi Arai (Former Dean, IMSUT) as the conference Plenary Speakers. We look forward to welcome scientists and researchers abroad and in Vietnam to share their advanced research with the 2nd GIC-VN. We appreciate profusely the sponsorships of private, government and international agencies to help with the organization of the conference.
As evidenced, GIC-VN has made rapid and significant progresses since the 1st GIC-VN two years ago. The core organization of GIC-VN is the Laboratory of Stem Cell Research and Application (SCL) of Ho Chi Minh City which was recently promoted to the Regenerative Research Center with the new facilities and expanding functions and activities; together with VNU, the laboratory has established active collaboration with UCLA in cancer research in Ho chi Minh City; SCL also established its international status via producing over 50 publications since 2010 in peer-review journals on stem cell as well as cancer topics, in addition to editorship of two journals sponsored by Springer, namely BMRAT (Biomedical Research and Therapy – www.bmrat.org) and Progress in Stem Cell (www.cellstemcell.org).
GIC-VN 2015 is looking forward to welcome participations of international experts in the field of gene and immunotherapy as speakers for the conference. In particular, we would like to promote the advanced and latest science on cancer and regenerative research.
As a tradition, the opening ceremony, plenary lectures, seminars, workshops and company exhibitions will be at the privilege environment of the HCMUS in Ho Chi Minh City, which is regarded as the Science Hub of the country. The 2nd GIC-VN conference events will focus on providing attendees with forefront and in-depth in a multi-theme of innovative research on cancers and regenerative medicine by international leaders and experts; researchers of Vietnam will present their works attributed to the medical challenges of Vietnam. A proceeding of conference reports is arranged for publication by Springer. A round-table discussion for collaboration and partnership/investment of biotech in Vietnam will be organized. Tours of the natural scenery and historical sites of Vietnam will be organized to entertain speakers and guests. For details, please see specified sections of this website.
We would like to express in advance our heartfelt appreciation to speakers who would accept our invitation to help enrich the scientific programs of the conference. We would also be very thankful for your assistance in promotion of this invitation to the circle of your collaborators and colleagues. GIC-VN offers to make your participation and visit to Vietnam a pleasant and memorable experience both in science and culture of our motherland.
Last but not least, we wish to express our profound gratitude for the past organizers and participants of the 1st GIC-VN that has made it a very successful event and provided inspiration for promotion of the modern biological sciences for applications in Vietnam, from which we anew and extend our journey via the 2nd GIC-VN
We gracefully look forward to welcome your reunion and new coming to GIC-VN 2015.
Thank you.
Phuc V. Pham, PhD
Co-Organizer, Vietnam Representative
GIC-VN 2015